Click the "Get your E-Price" button on our inventory pages to get detailed pricing information for individual models.
***Please note:  Our sales consultants can offer in-store only deals you won't find advertised or posted anywhere else.***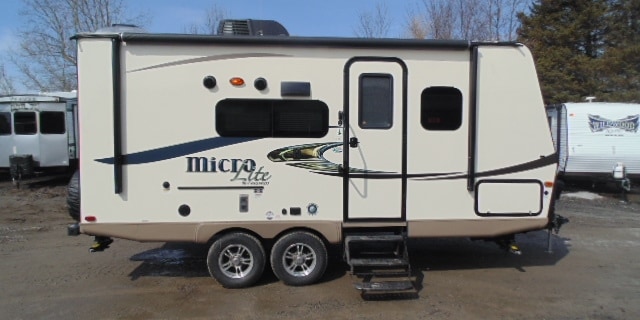 We know you have a choice for your camper shopping.  At Blevins, we work hard every day to give our shoppers the best experience possible--before, during, and after the sale.
For our Canadian customers, we make importing your camper or  b
oat easy:
1.  There is an international bridge to Canada in Ogdensburg, NY
2.  We prepare paperwork & bring to US customs
3.  We obtain an in transit permit from the Ogdensburg DMV for you
4.  You pick up camper at Blevins, stop at US customs and paperwork is cleared & ready for you.  This can be done the same day that Blevins brings the paperwork to customs.
5.  You stop at Canadian customs & complete import process
**Note: you do not pay any New York or US sales taxes**
Here's what you'll get when you shop at Blevins:
Outstanding Online Shopping Tools--we provide plenty of photos of our inventory.  You'll also notice that we list full specifications (weight, capacities, etc.) for new campers.  To access our store on the go, download our mobile app on your iPhone or Android device.
Great Selection of Inventory--we stock plenty of new & used campers with a wide range of floorplans & styles.
Easy Financing Process--Blevins will arrange financing on your camper with our quick & easy application process.  To get started from the comfort of your home, click here to access our finance application.  It's safe, secure and it only takes a few minutes.
No Surprise Pricing--we won't spring delivery charges, upgrade charges, or any other hidden fees on you.  The price we say is the price you pay, period.
Same Day Delivery--in most cases, we can arrange financing, prep your camper and clean it all in 1 day, saving you from having to make a return trip to the store.
"Ready to camp" at delivery--we prep your camper so you can drive it right off our lot & onto your campsite.
We look forward to serving you!